Sandman, a "ruggedly handsome" male orange cat, is available for adoption in Virginia. 
Sandman came to King Street Cats after about five to six years living on the streets, said the shelter.
King Street Cats is an all-cat, no-kill shelter located in Alexandria, Virginia, completely run by volunteers. 
CAT IN NEW YORK CITY NAMED ELIJAH IS A 'TOTAL SWEETHEART,' NEEDS A FAMILY TO LOVE HIM
"He is a dear boy," Patti Gross of King Street Cats told Fox News Digital. "A street cat that we are so happy he found his way to King Street Cats." 
Sandman is FIV+, but it is not something to be overly concerned about, said Gross.
"He is more susceptible to infections than other cats, but is otherwise normal," she said. 
Despite his diagnosis, Sandman is able to live safely with other cats.
CALIFORNIA DOG UP FOR ADOPTION HAS CUTE 'BAT' EARS, SNUGGLY PERSONALITY: 'SAVING LOVE FOR HUMANS'
"He is not sickly," Gross said. "It is simply that his immune system is not quite up to snuff." 
Although Sandman was found on the street, King Street Cats believes that he had a home at one point, as he "really likes people."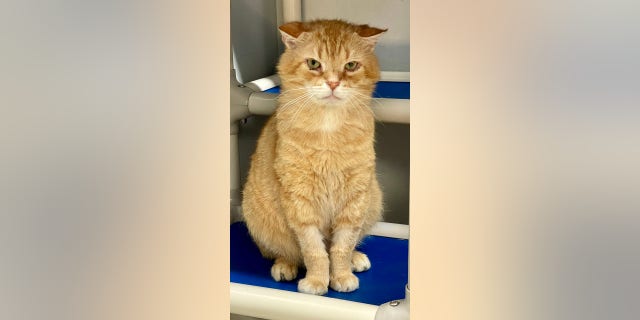 Sandman was living with a feral colony that was tended to by a "dear friend of King Street Cats," who noticed that he was getting sicker by the day, said the shelter.
That person notified King Street Cats, who then took in Sandman. He was then neutered and given necessary dental care, said the shelter. 
SENIOR DOG IN CALIFORNIA ON THE VERGE OF BEING EUTHANIZED IS ADOPTED, BEATS CANCER
After a period in isolation, Sandman now lives with the other cats at King Street Cats, and loves to give the volunteers "lots of leg rubs and purrs." 
Sandman would do best with "another mellow kitty" in a home, or as a single pet – he does not do well with dogs, said King Street Cats.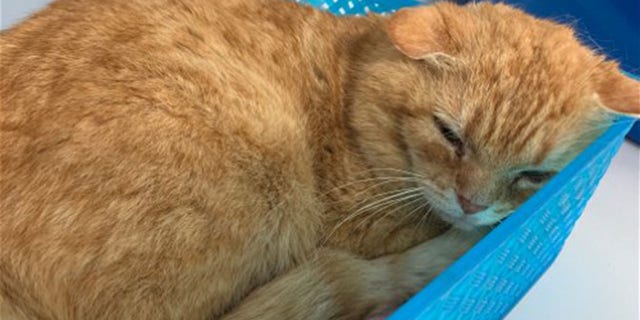 He is "a lover, not a fighter," said the shelter. 
While he "may not be your classically handsome guy," Sandman is appealing in his own way, it enthused.
Anyone interested in adopting Sandman can apply on the King Street Cats website, KingStreetCats.org. 
King Street Cats is located at 25 Dove Street in Alexandria, Virginia. Adoptions are currently being done by appointment only, and King Street Cats only adopts out to the metro D.C.-Maryland-Virginia area. 
Want to read about other pets up for adoption? Check out this article from Fox News Digital: Washington, D.C., rescue dog up for adoption for nearly three years is still searching for loving home
And click here for other Fox News Digital Adoptable Pets stories. 
Read the full article here