President Biden, in his second State of the Union address, laid out his economic plans for the year ahead by calling for bipartisanship—while simultaneously jabbing at Republicans and their proposals. And in the wake a Chinese surveillance balloon that passed over the nation just before his speech, he warned he will take action if Beijing "threatens" U.S. sovereignty.
Biden on Tuesday began his remarks by congratulating the 118th Congress and House Speaker Kevin McCarthy.
"Speaker, I don't want to ruin your reputation, but I look forward to working with you," the president began Tuesday night, touting the hundreds of bipartisan pieces of legislation he has signed since taking office.
"We could work together in the last Congress—there's no reason we can't work together and find consensus on important things in this Congress as well," Biden said.
BIDEN BOOED DURING STATE OF THE UNION FOR CLAIMING GOP WANTS TO CUT SOCIAL SECURITY, MEDICARE
But shortly after, the president echoed a familiar claim—one the White House has been parroting for months—that Republicans in the House of Representatives plan to sunset Medicare and Social Security.
Republican lawmakers erupted, even shouting "liar" at the president. McCarthy and Senate Minority Leader Mitch McConnell have repeatedly said sunsetting Social Security and Medicare is not on the table for congressional Republicans—as recently as Monday.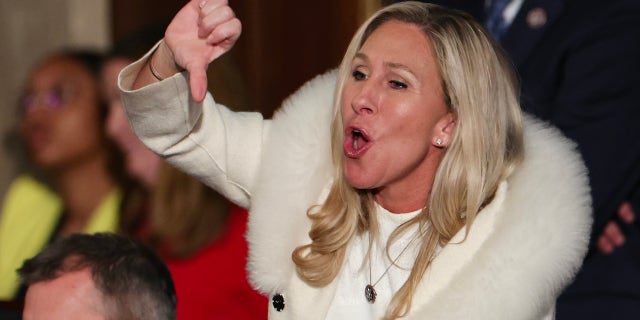 The president used his address to tout economic progress under his administration—despite inflation hitting record highs in 2022—highlighting the unemployment rate at a "50-year low," and job creation.
The president claimed he created "800,000 good-paying manufacturing jobs," but according to the Bureau of Labor Statistics, under the Biden administration, the economy "added back" all of the manufacturing jobs lost during the COVID pandemic. Biden has "created" 214,000 manufacturing jobs since taking office.
Biden echoed another familiar claim— that Russian President Vladimir Putin is to blame for inflation in the United States, pointing to his "unfair and brutal war in Ukraine" which disrupted energy supplies as well as food supplies.
"Inflation is coming down here at home," Biden said. "Gas prices are down, food inflation is coming down—not fast enough, but coming down. Inflation is falling every month for the last six months." 
FOUR SUPREME COURT JUSTICES ABSENT FROM BIDEN'S STATE OF THE UNION
Biden addressed the supply chain, which has seen continuing issues since the COVID pandemic, and led to a nationwide shortage of baby formula.
"We're going to make sure the supply chain for America begins in America," Biden said.
Biden also touted the passage of the bipartisan infrastructure law.
Calling it his "Blue collar blueprint to rebuild America," Biden announced that all construction materials used for infrastructure projects will be "made in America."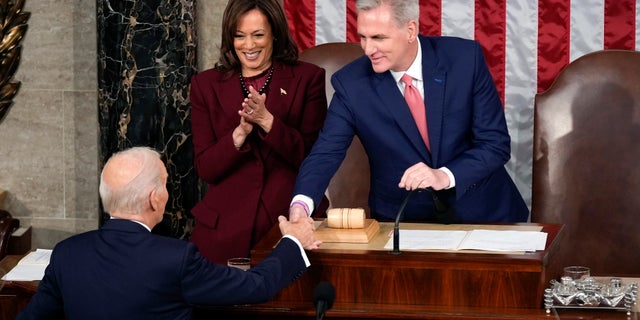 Meanwhile, the president pointed to the Inflation Reduction Act, which House Republicans have called to repeal.
"It is the most significant investment ever in climate change ever," Biden said. "Lowering utility bills, creating American jobs, leading the world to a clean energy future." 
"Let's face reality—the climate crisis doesn't care if you're in a red or blue state. It is an existential threat," Biden continued. "We have an obligation not to ourselves, but our children and grandchildren to confront it."
He added: "I'm proud of how America, at last, is stepping up to the challenge." 
US INTEL ASSESSES CHINESE SPY BALLOONS TRANSITED US SEVERAL TIMES, WENT 'UNDETECTED': SENIOR ADMIN OFFICIAL
But Biden waited until the very end of his speech to address the Chinese spy flight that transited across the continental United States from Jan. 28 until Feb. 4, when it was shot down by the U.S. military off the coast of South Carolina.
While Biden used his State of the Union address to warn that climate change is an "existential threat," his own administration's national security strategy says China poses the greatest threat to the United States.
Members of his administration, like FBI Director Christopher Wray, CIA Director William Burns, and Director of National Intelligence Avril Haines have said China is the greatest threat to U.S. national security. Defense Secretary Lloyd Austin and Chairman of the Joint Chiefs of Staff Gen. Mark Milley have also sounded the alarm on the threat China poses.
CHINA POSES 'BIGGEST LONG-TERM THREAT TO ECONOMIC AND NATIONAL SECURITY,' FBI DIRECTOR WRAY WARNS
But during his address, Biden, instead of outlining the threat posed by the Chinese Communist Party, said he is "committed" to working with China.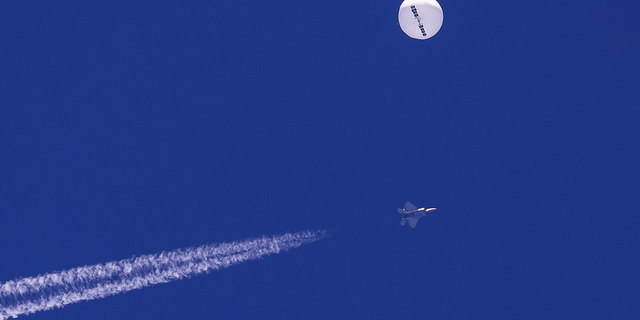 "I've made clear with President Xi that we seek competition, not conflict," Biden said. "I will make no apologies that we are investing to make America strong. Investing in American innovation, in industries that will define the future, and that China's government is intent on dominating."
"Investing in our alliances and working with our allies to protect our advanced technologies so they're not used against us," Biden continued. "Modernizing our military to safeguard stability and deter aggression."
Biden said that the U.S. today is "in the strongest position in decades to compete with China or anyone else in the world."
"I am committed to work with China where it can advance American interests and benefit the world," Biden said.
Finally addressing the spy flight, Biden said: 
"But make no mistake: as we made clear last week, if China's threatens our sovereignty, we will act to protect our country. And we did," Biden said.
MILITARY EXPERTS PROVIDE FRANK ASSESSMENT OF US SHORTCOMINGS IN POTENTIAL CHINA CONFLICT
He added that "winning the competition with China should unite all of us."
"We face serious challenges across the world," Biden said. "But in the past two years, democracies have become stronger, not weaker. Autocracies have grown weaker, not stronger."
He added: "America is rallying the world again to meet those challenges, from climate and global health, to food insecurity, to terrorism and territorial aggression."
And Biden's administration has been rocked by a migrant crisis at the southern border now into its third year, with a record 2.3 million migrant encounters and nearly 600,000 "gotaways" in FY 2022. In December there was a record 251,000 migrant encounters alone.
Biden used his State of the Union address to again call for Congress to pass a mass amnesty for illegal immigrants, while touting a recent drop in migrant numbers at the southern border from the historic highs seen during his administration – and was met by yells to "secure the border" by some Republicans.
"Let's also come together on immigration and make it a bipartisan issue once again," he said. "America's border problems won't be fixed until Congress acts."
"If you won't pass my comprehensive immigration reform, at least pass my plan to provide the equipment and officers to secure the border," Biden said.  "And a pathway to citizenship for Dreamers, those on temporary status, farm workers, and essential workers."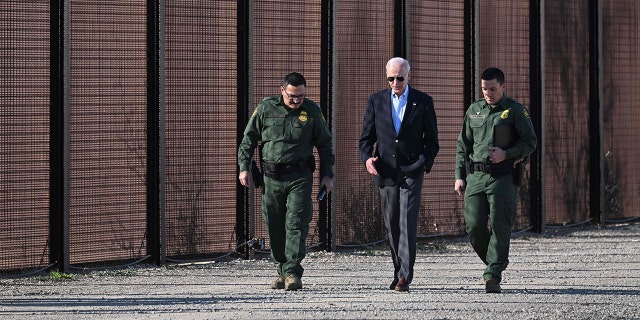 Later in the address, Biden highlighted the fentanyl crisis that is killing tens of thousands of Americans each year. Officials have said that fentanyl is produced in Mexico using precursors from China and then transported into the U.S. across the land border.
"Fentanyl is killing more than 70,000 Americans a year. Let's launch a major surge to stop fentanyl production, sale, and trafficking, with more drug detection machines to inspect cargo and stop pills and powder at the border," Biden said, before calling for cooperation with couriers and increased trafficking penalties.
The mention of fentanyl led to renewed calls from some Republicans to "secure the border."
"You got it," Biden said.
Meanwhile, Biden called on Congress to act on a number of proposals, including to protect Americans from "junk fees," or hidden surcharges businesses use "to make you pay more."
Biden also called to restore the full child tax credit, and ensure that working parents have sick days, paid family and medical leave, affordable child care and housing.
STATE OF THE UNION 2023: BIDEN RE-UPS AMNESTY CALL FOR ILLEGAL IMMIGRANTS, GOP REPS YELL 'SECURE THE BORDER'
Biden also called for police reform, to give law enforcement the "training they need," to help them to "succeed in keeping everyone safe." 
Biden called for law enforcement to be given the "training they need, hold them to higher standards, and help them succeed in keeping everyone safe." 
Biden, though, said that when police officers "violate the public's trust, we must hold them accountable."
Biden also called for Congress to "ban assault weapons once and for all."
Biden also called for Congress to pass the bipartisan Equality Act to "ensure LGBTQ Americans, especially transgender young people, can live with safety and dignity." 
The president also addressed the Capitol riot on Jan. 6, 2021 during his address, saying that democracy is "bruised," but is "unbroken."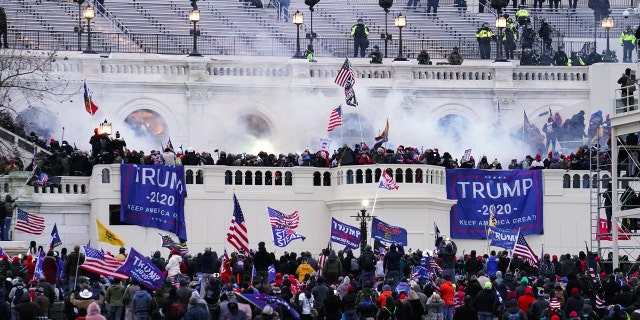 "For the last few years our democracy has been threatened, attacked, and put at risk–put to the test here, in this very room, on January 6th," Biden said. 
Biden also reflected on the attack against former Speaker Nancy Pelosi's husband, Paul Pelosi. Biden said the assailant was "unhinged by the Big Lie" and "unleashed political violence in the home of the then-Speaker of this House of Representatives. Using the very same language that insurrectionists who stalked these halls chanted on January 6th." 
Paul Pelosi was in the chamber for the address Tuesday night.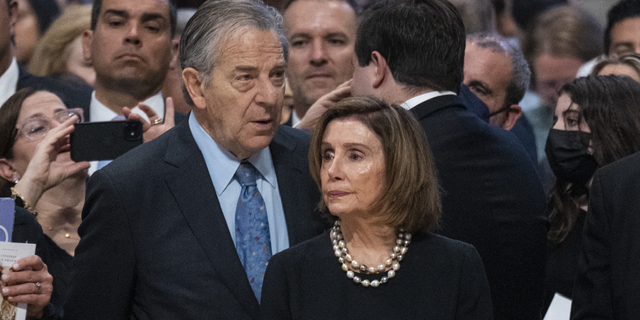 "There is no place for political violence in America. In America, we must protect the right to vote, not suppress that fundamental right. 
Biden said that democracy "must not be a partisan issue," but instead, "an American issue." 
 
"Every generation of Americans has faced a moment where they have been called on to protect our democracy, to defend it, to stand up for it," Biden said. "And this is our moment." 
The president, in closing, said the country is "at an inflection point." 
"One of those moments that only a few generations ever face, where the decisions we make now will decide the course of this nation and of the world for decades to come," Biden said. "We are not bystanders to history."
He added: "We are facing the test of our time and the time for choosing is at hand." 
Biden said the United States must be a nation "that embraces, light over darkness, hope over fear, unity over division. Stability over chaos." 
 
"So I have come here to fulfil my constitutional duty to report on the state of the union. And here is my report: because the soul of this nation is strong, because the backbone of this nation is strong, because the people of this nation are strong, the State of the Union is strong," Biden said. 
 
Read the full article here