The U.S. and South Africa appear to remain locked in a diplomatic battle over whether the African country has gone pro-Russian amid continuing concerns about greater military and economic ties between the countries including arms shipments.
On Tuesday, South African Minister of International Relations Naledi Pandor poured more fuel on the fire. While discussing claims by the U.S. Ambassador to South Africa Reuben Brigety that arms were loaded onto a sanctioned Russian freighter, the Lady R, at the Simonstown naval base near Cape Town, Pandor told 702 Talk Radio "the allegations that he has made stand." 
Brigety last week told reporters that he was so confident that arms had been loaded onto the ship, that he would bet his life on it.
While the allegations are not new, there remains no concrete answers from the South African government. Shortly after the Lady R sailed out of Cape Town's waters, South Africa's Defense Minister Thandi Modise told reporters, "I do not want to comment on the content of this vessel until I get all the paperwork." That was five months ago, and Modise has yet to provide further information.
QUESTIONS OVER WHETHER SOUTH AFRICA SUPPLIED ARMS TO RUSSIA FUEL HUGE DIPLOMATIC DISPUTE WITH US
In February, U.S. Treasury Secretary Janet Yellen asked South African officials to give details about the Lady R's cargo. That demand was repeated to a South African trade delegation in Washington two weeks ago, and by the State Department in a media briefing last Wednesday. Analysts say the U.S. ambassador may not have been making a solo outburst when he made the claims public Thursday, but rather venting Washington's frustration at a lack of answers from Pretoria. It has been pointed out that the State Department has not recalled the ambassador to Washington for talks and has not made any comment about the merits of the claim.
"I share Ambassador Brigety's concerns" Sen. James Risch, R-Idaho, ranking member of the Senate Foreign Relations Committee, told Fox News Digital Monday.  "This is not the behavior of a purported friendly, neutral, or peace-loving government – which gladly accepts U.S. trade preferences and development assistance, while it allows seemingly corrupt exchanges of arms with an aggressor state responsible for slaughtering the Ukrainian people."
U.S. relations with South Africa are now perceived to be so low that the country is being compared to North Korea and Iran. Emma Louise Powell, shadow minister for International Relations for the official opposition party, the Democratic Alliance (DA), wrote in a statement that the South African President Cyril Ramaphosa, knows, "exactly what transpired in December and (is) now desperately treading water."
"Make no mistake," Powell continued, "this week's revelations by American Ambassador Reuben Brigety, were designed to send a definitive message to Ramaphosa's cabinet that aiding and abetting Russian aggression will have dire consequences for the South African economy. This growing impasse also risks South Africa being relegated to the dustbin of history alongside the likes of North Korea and Iran – both of whom are under U.S. sanction for their supply of arms to the Russian Federation."
Perhaps not helping Pretoria's image, Russian news organizations Monday enthused about a visit to Moscow this week by the commander of South Africa's ground forces, Lieutenant-General Lawrence Mbatha and a whole team, working, the Moscow Times reported, on issues of military co-operation and "combat readiness."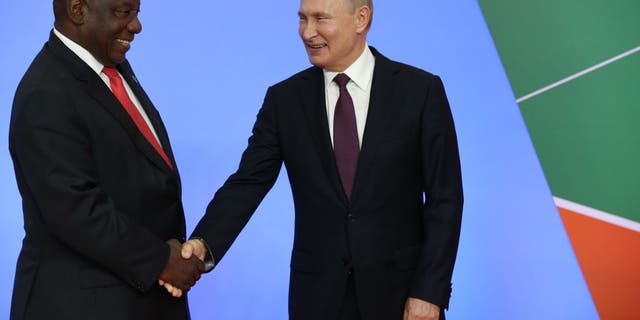 PUTIN POSES ARREST DILEMMA AS SOUTH AFRICAN OPPOSITION SAYS IF RUSSIAN-FRIENDLY GOVERNMENT WON'T ACT, IT WILL
Although the Ministry of Defense would not answer questions from Fox News Digital, DA Shadow Defense Minister Kobus Marais protested in a statement writing, "This once again demonstrates the government's callousness and insensitivity to our diplomatic and trade dilemma. This unsolicited visit is also just the latest incident in a string where the South African government clearly and unashamedly demonstrates its support for Russia."
"Even after the call from the United States to honor relationships they still went ahead and conducted this visit. It is shameful," he said.
On April 24, a massive Russian Antonov freighter aircraft was allowed to land, unload and load at a South African military airbase, Waterkloof. Questions have not been fully answered as to why it was allowed to touch down at this national keypoint, and what it brought in, and what it carried out. This particular aircraft has been sanctioned by the U.S., just like the ship the Lady R, for carrying arms for Russia. Authorities have said this heavy-lifter plane, capable of carrying heavy trucks, was simply delivering diplomatic mail for the nearby Russian embassy.
The U.S. publicly says despite all the controversy, all is "on track" with South Africa. Fox News Digital reached out to both the U.S. Embassy in Pretoria and the State Department for comment. The Embassy did not respond, but the State Department referred to comments made in a briefing Monday by Vedant Patel, the Department's principal deputy spokesperson, "as it relates to our relationship with South Africa, I'll note that our relationship with South Africa remains strong, and we are – continue to be committed – to the affirmative agenda of our bilateral relationship."
Referring to the ship the Lady R, Clayson Monyela, head of public diplomacy at South Africa's Ministry of International Relations, tweeted on Friday, "The National Conventional Arms Control Committee has no record of an approved arms sale by the state to Russia related to the period/incident in question."
Cameron Hudson, a former CIA officer, believes statements such as this are fundamentally correct – because there is so much corruption, he says, within South Africa's government that it's possible that, at senior government level, the ministers don't know what their employees are corruptly doing.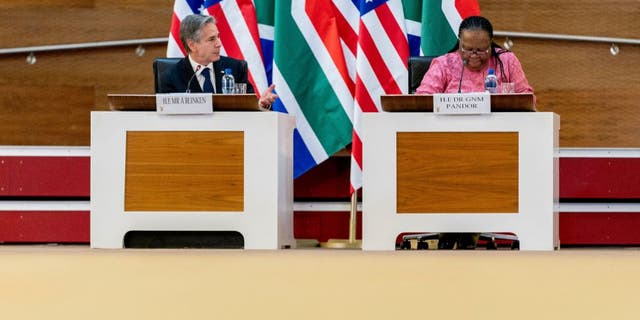 SOUTH AFRICA DRILLS WITH RUSSIA, CHINA COULD SIGNIFY FAILED WASHINGTON EFFORTS TO SOLIDIFY AFRICAN ALLIES
Hudson was director of African affairs at the National Security Council during President George W. Bush's administration. He is now a senior associate with the Center for Strategic and International Studies' Africa Program. 
Hudson told Fox News Digital, "There has long been rumors that the Defense Ministry was captured by Russian interests and may have even been operating without the full consent or knowledge of other parts of the government. South Africa has been moving into a Russian orbit since the Presidency of Jacob Zuma (the country's last President), and since that time has experienced a rise in senior level corruption and a hollowing out of South Africa's democratic institutions."
"The bilateral relationship," Hudson added, "is not likely to be repaired quickly or easily after this latest betrayal, but at the same time, Washington will not want to risk pushing South African even further into alignment with Russia and China by enacting punitive measures against it. Congressional voices could well pressure the administration to take a harder line, perhaps pursuing targeted sanctions against lower level officials or business involved in the Lady R deal."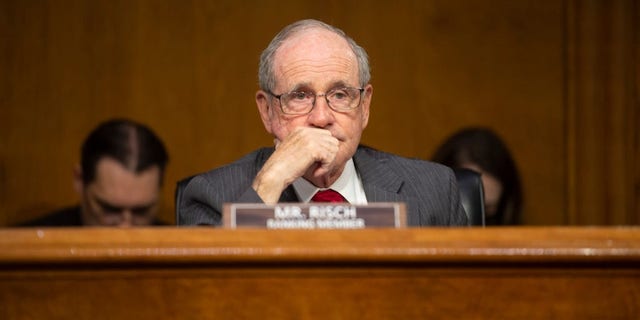 "Ultimately, Russia would love nothing more than for this incident to drive a wedge between the U.S. and South Africa."
Thousands of South African jobs are at stake from beneficial U.S. trade deals such as the African Growth and Opportunity Act. Senator Risch told Fox News Digital Monday, "The Biden Administration should use existing authorities to reevaluate the scope and scale of our current engagement with South Africa's government."
Read the full article here