Florida Gov. Ron DeSantis described the situation unfolding along U.S. southern border a "disaster" and called for its immediate closure as illegal immigrants surge into the country following the expiration of Title 42.
Speaking at a GOP event in Sioux City, Iowa, on Saturday, DeSantis said the insecurity of the border has led to deaths primarily caused by Mexican drug cartels and the flow of deadly fentanyl smuggled into the U.S.
"I'd shut down the border immediately. Why are we letting this happen to our country? It's hurting people. The drugs are pouring into the country," DeSantis said. "Americans are dying for what's going on at border. Criminal aliens are getting into this country. Even people on the terrorist watch list are getting into this country. No, you deserve to have a secure border. You deserve to have the rule of law."
In the days around the expiration of Title 42 — a Trump-era public health order that allowed the U.S. Border Patrol to rapidly expel those apprehended at the border — officials set records for daily numbers of illegal immigrant encounters. Agents apprehended 10,000 migrants per day from Tuesday through Thursday. 
BIDEN ADMIN TELLS AMERICANS TO BRACE FOR BORDER CHAOS AS TITLE 42 ENDS, MIGRANTS SURGE
"We also need to restore a sense of normalcy about we are a nation that has borders. Our sovereignty as a people matters. Don't tell me foreigners can just decide to come across the border when they want to. We decide who comes into this country as Americans, we have every right to have that border secured and not have this disaster unfolding," DeSantis said.
Amid the influx, Border Patrol officials scrambled to quickly release individuals and sought to release some without a court date.
"Someone comes across the border, stop them and send them back on the other of the border," DeSantis said. "Don't give them a piece of paper and say you come back for a court date in four years. What kind of a deterrence is that? And I'll tell you this, these Mexican drug cartels are killing a lot of Americans. They need to be treated like the hostile force that they are. We need to be holding the cartels accountable, and we need to be holding the Mexican government accountable, because they are allowing a lot of this to happen."
DeSantis called for renewed construction of the border wall as a deterrent, and said his state's efforts to curb illegal immigration were effective. "Guess what happens when they see that they will be stopped, turned back and repatriated? They stop coming," DeSantis said.
DeSantis' Iowa speech comes amid growing signs that he will enter the 2024 presidential race. Though he has not officially announced a campaign, he has been building political staff and touring early-voting states like Iowa and New Hampshire as the GOP presidential primary takes shape. 
IOWA SHOWDOWN: TRUMP AND DESANTIS HOLD COMPETING 2024 EVENTS IN FIRST CAUCUS STATE
Former President Donald Trump, the polling front-runner in the 2024 Republican primary race, has been on the offensive against DeSantis for months. DeSantis has been hesitant to respond to the attacks, though he continues to talk about the stakes of the 2024 presidential race and asserts that Florida should serve as a model for the nation.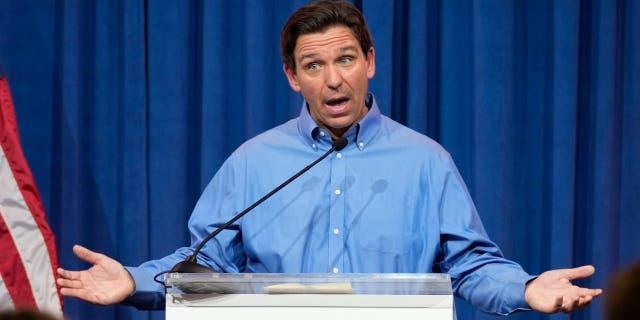 DeSantis called on Republicans to reject a "culture of losing," referring to Trump's loss and continued claims that the 2020 election was rigged and stolen.
"Both Florida and Iowa show strong leadership and a bold agenda can defeat the left in this country. But there's no substitute for victory. We must reject the culture of losing that has infected our party in recent years, that time for excuses is over," DeSantis said. 
"We got to demonstrate the courage to lead and the strength to win. If we do that, if we make the 2024 election a referendum on Joe Biden and his failures, and if we provide a positive alternative for the future of this country, Republicans will win across the board.  
"If we do not do that, if we get distracted, if we focus the election on the past or on other side issues, then I think the Democrats are going to beat us again. And I think it'll be very difficult to recover from that defeat," DeSantis said. 
Trump, who holds a double-digit lead in early 2024 GOP primary polls over DeSantis, was scheduled to speak in Iowa on Saturday evening but had to cancel those plans due to weather conditions, including a tornado watch. 
Read the full article here