A protester was arrested for hurling a brick Tuesday during San Francisco Mayor London Breed's chaotic outdoor hearing centered on cracking down on homeless open air drug markets. 
San Francisco Board of Supervisors President Aaron Peskin had decided to move the mayor's regular monthly meeting with the board down the block from City Hall to the United Nations Plaza, which has grown rampant with drug dealing and stolen good sales. 
"We can't keep speaking out of both sides of our mouth," Breed said in a fiery five-minute speech. "On the one hand we want change, and we want to hold people accountable, and on the other hand, we're willing to let people get away with murder."
"We have to make the kinds of decisions that are going to allow for people to get the help and support they need, but to not allow things to continue in the way that they have for far too long," the mayor said. "It's time for a change."
CA REPARATIONS TASK FORCE MEMBER DEFENDS MILLION-DOLLAR PAYOUTS: 'SIN BILL' FOR 'TERRORIZING BLACK PEOPLE'
Peskin started to grill the mayor on a request he had outlined in a letter earlier in the day to establish an Emergency Operations Center for multiple agencies to coordinate response and shut down open air drug dealing sites like the one in the plaza in the next 90 days. 
Heckling and chants of "no more cops" from the large crowd were so loud that Peskin moved the meeting back to City Hall before the mayor could answer. 
At one point, a protester rushed up toward where city officials were standing and threw a brick. The brick struck a female Galileo High School student and member of the junior ROTC troop who helped raise the American flag at the start of the meeting. Supervisors had reportedly already left U.N. Plaza.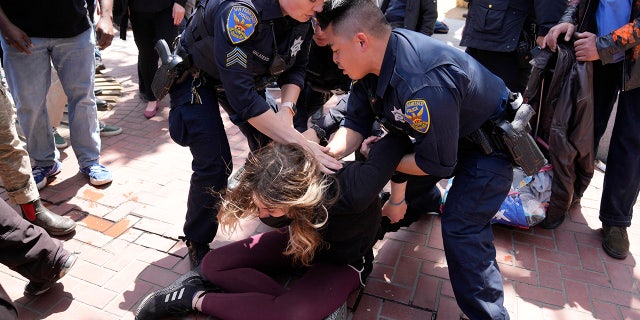 The minor student was not seriously injured, and law enforcement soon detained the protester on the ground. 
The San Francisco Police Department later identified the suspect as 26-year-old Elysia Katet, the San Francisco Chronicle and The San Francisco Standard both reported. 
Online jail records showed Katet was booked on charges of child endangerment and assault with a deadly weapon.
SAN FRANCISCO PROPOSED REPARATIONS PLAN COULD COST CITY $100 BILLION: REPORT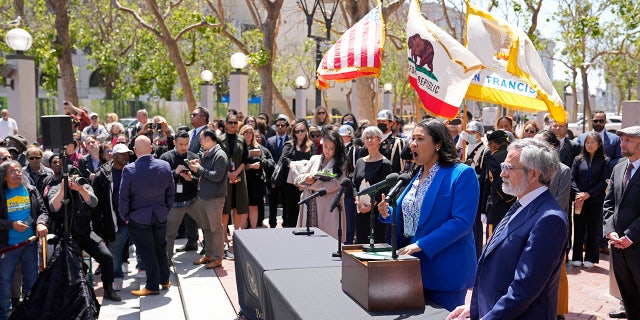 "The attack on a young person in the Plaza today when a violent protester threw a brick is only another tragic example of how we are losing control of our public spaces," Peskin said in a statement later Tuesday. "If we can't guarantee everyone's safety when the Mayor and her security team are present – we have lost control of our public realm. And that is our shared mission: to regain control of all of our public spaces, so that they are safe and clean for everyone always. We simply can't defend this status quo, and we must continue to demand change."
Peskin, a progressive, has argued that the city already has sufficient resources but lacks coordination.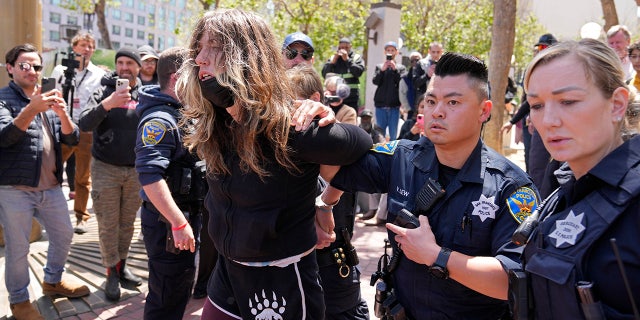 Breed's emergency management department earlier in the day had confirmed a pilot program to allow state law enforcement to intervene in removing people using drugs who are a danger to themselves or others off the streets, which liberal critics condemned as a plan to essentially arrest drug users. 
"The people who live here, the folks who work here and the people who experience these challenges every single day, they deserve better," Breed said, according to the Standard. "Why should someone else's rights be put before their needs and their safety and what they deserve, too, in a place like San Francisco that claims to be so compassionate and liberal? What about them?"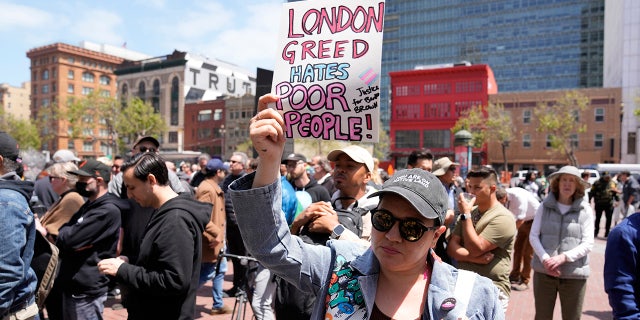 "I get that people have an issue with the fact that we are looking at being more aggressive with people struggling with drug addiction," the mayor, whose sister died of a drug overdose, added, according to the Chronicle. "I want to make sure that person doesn't die. How do we do that? Force is going to have to be a part of it, whether people like it or not… Compassion is killing people."
The Associated Press contributed to this report. 
Read the full article here