Christian parents in the United Kingdom pulled their 4-year-old son from a Church of England school after its head teacher allegedly promoted "gender identity" lessons.
"It's just a minefield, and children should not be subjected to this agenda," father Stephen Evans told Fox News Digital of the gender debate.
Evans and his wife Joanne were among several parents who raised concerns when St. Mary's, Prittlewell — a primary school in Essex, England — planned to teach young children from a book by Scott Stuart titled "My Shadow Is Pink," which they felt was inappropriate, according to their legal counsel at the London-based Christian Legal Centre.
The 2020 book, a recording of which is online, explores the life of a boy who is uncomfortable with male stereotypes and wears dresses. In the story marketed as suitable for children aged 3 and above, the boy's father tells him, "Your shadow is pink, I see now it's true, it's not just your shadow, it's your innermost you."
CHRISTIAN PARENTS WIN IN COURT AFTER SCHOOL LABELED 6-YEAR-OLD SON POTENTIALLY 'TRANSPHOBIC'
The policy group Transgender Trend has criticized the book, claiming it promotes the notion that altering one's appearance by wearing clothes or changing hairstyles associated with the opposite sex can change one's gender.
"Telling young children that hairstyles and clothes will change their sex and that other children will then believe it to be true is a cruel deception, playing as it does on a child's developmentally limited understanding of biology," the group said of the book. "It's a cynical trick to use on children who are at an age when fantasy play is at its most intense."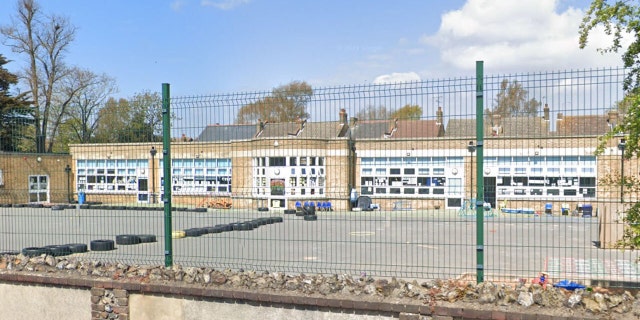 The same author has also written a book titled "My Shadow Is Purple," which explores moving beyond the gender binary, according to the Daily Mail.
"It's a cynical trick to use on children who are at an age when fantasy play is at its most intense."

— Policy group Transgender Trend
The offended parents believed Stuart's book promoted gender confusion. The school reportedly did not consult parents when it decided to use the book to mark World Book Day earlier this month, and children were asked to dress up to reflect how they see their shadows and themselves. The children were also reportedly encouraged to explore the story's themes throughout the day.
The school did not respond to Fox News Digital's request for comment.
UK WOMAN ARRESTED A SECOND TIME FOR 'OFFENSE' OF SILENTLY PRAYING OUTSIDE ABORTION CLINIC: 'THIS ISN'T 1984'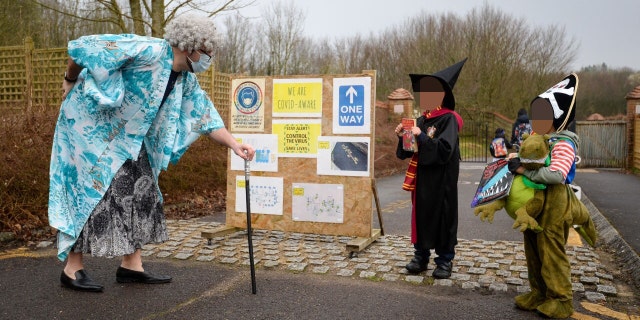 Evans explained to Fox News Digital that children in the U.K. celebrate World Book Day each year in early March by dressing up as their favorite character from a book, but he believes St. Mary's, Prittlewell used "My Shadow Is Pink" as a "stimulus" to encourage gender confusion.
"I don't know why they're trying to promote it," Evans said. "I don't know who's lobbying whom. It's a bigger issue than I realized. We didn't realize how many parents had spoken up about this. We thought we were the only ones." He noted stories published in U.K. outlets about his situation have been inundated with supportive comments.
"The point is, it's not appropriate for 4-year-olds, and it's not appropriate for a Church of England school to be teaching this or promoting it."
Evans said his family is Baptist, but noted that other parents who are not Christians have expressed support for his stance based on their belief that such material is not age-appropriate.
PARENTS ACCUSE SCHOOL OF SECRETLY INDOCTRINATING 8-YEAR-OLDS IN TRANS IDEOLOGY: 'SHOCKED AND HORRIFIED'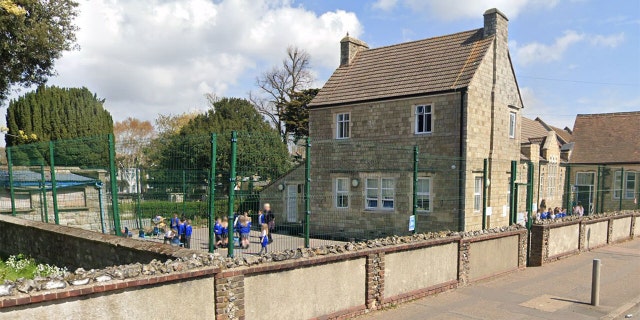 "The point is, it's not appropriate for 4-year-olds, and it's not appropriate for a Church of England school to be teaching this or promoting it," he said, adding that Christians in the U.K. are increasingly facing cultural and political pushback.
"The second we say, 'Hang on a minute, that differs from our opinion,' we're homophobic or transphobic; we're misogynistic, we're bigots, because we believe in one man, one woman. And our opinions are just washed away," he added. "So we've got to stand up and say this is not right."
CHURCH OF ENGLAND RECEIVES PETITION TO SCRAP 'DEEPLY DAMAGING AND WRONG' TRANSGENDER GUIDANCE
Evans' situation echoes that of Calvin and Nicola Watts, who removed their three children from St. Michael's Church of England primary school in Tenterden, Kent, last year because of the school's alleged "trans indoctrination" of children as young as 8 years old.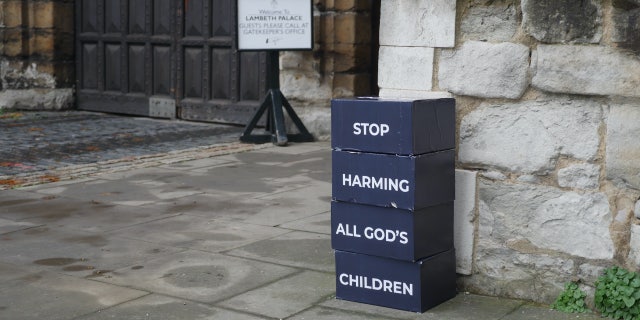 In her letter to the Evans, head teacher Aleishia Lewis reportedly cited "Valuing All God's Children," the Church of England's guidance for schools that critics maintain opens the door to affirming children as young as 5 years old in the opposite sex, though the church has denied such accusations.
The Church of England has faced rebuke from Anglican bishops in the global south who wrote a scathing letter rejecting the leadership of the archbishop of Canterbury after a vote by the General Synod last month to offer blessings for same-sex couples.
Read the full article here