The LA Dodgers officially removed a left-wing group of so-called "trans nuns" from their Pride Night honoree list after religious groups raised concerns the event would facilitate anti-Catholic hate.
The major league team announced that they would be honoring the Sisters of Perpetual Indulgence, a group of "queer and trans nuns," during a June 16 event, but quickly received backlash from religious groups for the decision given the history of anti-Catholic messaging and shocking performances.
"This year, as part of a full night of programming, we invited a number of groups to join us. We are now aware that our inclusion of one group in particular – The Sisters of Perpetual Indulgence – in this year's Pride Night has been the source of some controversy," the Dodgers wrote in a statement released Wednesday.
Dodgers announced they would no longer be honoring the group during the upcoming LGBTQ event. "Given the strong feelings of people who have been offended by the sisters' inclusion in our evening, and in an effort not to distract from the great benefits that weave seen over the years of Pride Night, we are deciding to remove them from this year's group of honorees," they said.
LA DODGERS' PARTNERSHIP WITH RADICAL LGBT ACTIVISTS DRAWS CATHOLIC IRE: 'PERVERTED, SEXUAL AND DISGUSTING'
On Tuesday, religious advocacy group CatholicVote called out the Dodgers and urged them to rethink the decision in order "to honor a blatantly perverted, sexual and disgusting anti-Catholic hate-group."
"We are pleased that the Dodgers reconsidered their decision to honor an anti-Catholic hate group known for their gross mockery of Catholic nuns, the Brian Burch, CatholicVote president, said in a statement Wednesday. "While we continue to wonder how such a group was selected in the first place, this incident should serve as a wake-up call for all religious believers: unchecked woke corporations have no qualms about exploiting people of faith."
Florida Republican Sen. Marco Rubio, who criticized the Dodgers' decision to invite the group, also reacted to the Wednesday announcement.
"For once, common sense prevailed in California," Rubio tweeted Wednesday.
"It would be an outrage and a tragedy if the MLB, in pursuit of modern, secular, and indeed anti-religious 'values,' rebuked that faith and the millions of believing fans who cherish the sport," Rubio had said Tuesday.
Catholic League, a religious civil rights group, also blasted the teams controversial honoree pick. "The Los Angeles Dodgers have besmirched their legacy of combating bigotry by partnering with LA Pride in awarding this year's Community Hero Award to an obscene anti-Catholic group, the Sisters of Perpetual Indulgence," they wrote on Twitter.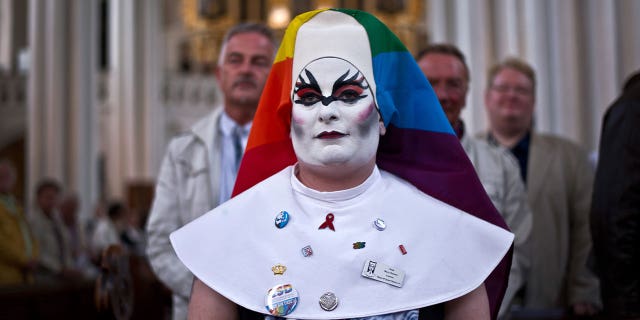 The Dodgers' decision to revoke their invite to the anti-Catholic group comes amid a trend of well-known companies being called out for sponsoring individuals with controversial viewpoints and lifestyles.
Bud Light recently came under fire for teaming up with transgender influencer Dylan Mulvaney, and individuals nationwide began boycotting the brand as a result of the campaign.
Read the full article here