A train derailed in Clark County, Ohio, Saturday evening, Fox News Digital has confirmed. 
According to the Clark County Sheriff's Office, emergency personnel and hazmat crews responded to the train derailment on State Route 41 and Gateway Boulevard near the Clark County Fairgrounds at about 5 p.m.
It is not known if anything was on the train at the time of the derailment. The Clark County Sheriff's Office confirmed the train was not a passenger train.
OHIO SENATORS RAISE ALARM ON CANCER-CAUSING CHEMICAL POTENTIALLY SPREADING IN EAST PALESTINE
At 7 p.m. Saturday, the Clark County Emergency Management Agency asked residents within a 1,000 feet of the train derailment to shelter in place "out of an abundance of caution," according to a post on the Clark County government Facebook page.
The State Highway Patrol said roads are closed surrounding the derailment site. Officials are urging residents to seek alternative routes.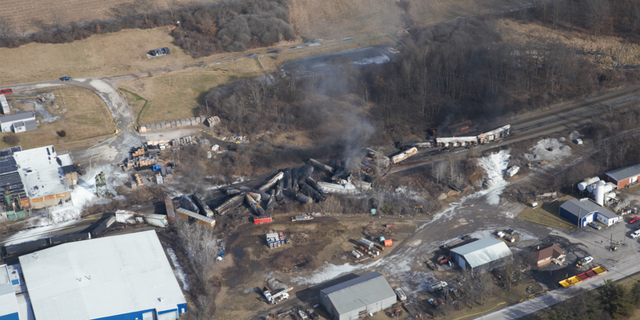 Saturday's derailment comes just over one month after a Norfolk Southern train with 50 rail cars, 10 of which were carrying vinyl chloride, derailed in East Palestine, Ohio, Feb. 3. 
That derailment caused hazardous chemicals to spill onto the ground and sent a plume of smoke into the air. 
Read the full article here