New York Post reporter Reuven Fenton has done innumerable door-knocks in his career while chasing down stories, but he told Fox News on Thursday that his encounter with now-fired, machete-wielding Hunter College professor Shellyne Rodriguez "was a first."
Rodriguez, who had been recorded berating two students representing "Students For Life in America" at a table at the Upper East Side college and declaring their pamphleteering to be "violence," pulled out a large machete when Fenton knocked on her apartment door Tuesday.
Fenton and his photographer were later chased into the street by Rodriguez as they were leaving her building.
"I don't think anybody would ever have expected something like that," he told "Jesse Watters Primetime." "I've encountered a lot of weird things. It's been a fairly long career at this point."
MACHETE-WIELDING NEW YORK PROFESSOR TURNS HERSELF IN TO COPS, CLAIMS SHE'S THE VICTIM
"I've done some 10,000 door-knocks, It must be — and I've never quite encountered [that]."
Fenton said his recounting of his run-in with Rodriguez – who was summarily fired by Hunter College after video of her confrontation with the Post reporter went public – will be something he will be telling for a long time.
"This was a first," he said. "You know, finally something memorable for a change."
Host Rachel Campos-Duffy noted how calm Fenton seemed when he was rudely surprised with the large knife. The reporter replied that he may be "desensitized" at this point from his years of pounding the pavement.
NYC PROFESSOR WHO THREATENED REPORTER WITH MACHETE TANGLED WITH COPS AT BLM PROTEST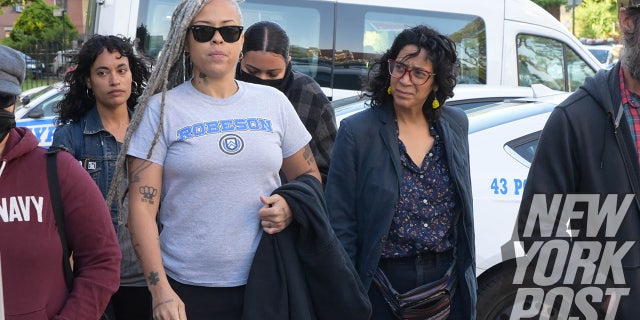 "It's a combination of the whole thing having been so quick — It was all over and done with in all 3 seconds," he said, adding that his gut feeling in the moment was that Rodriguez, despite being menacing, would not actually harm him.
He said a colleague was on the Hunter College campus talking to students in the aftermath of Rodriguez' behavior, and reported back that students agree the "place is nuts" to begin with.
Pointing to video of the initial confrontation between Rodriguez and the two pro-life students – wherein she pushed some of their literature off the table – Fenton noted the pupils were being conciliatory and at times even apologetic when she accused them of acting in a heinous manner and "triggering [her] students."
"It's painful to watch," he said.
CLICK TO GET THE FOX NEWS APP
Rodriguez has since been charged with menacing and harassment, for the encounter with Fenton and turned herself in to the New York Police Department on Thursday morning.
While she did not return previous Fox News Digital calls for comment, Rodriguez reportedly told ARTnews her firing was a product of Hunter College "capitulat[ing]" to "racists, White nationalists and misogynists."
Fox News and the New York Post share common ownership.
Fox News' Chris Eberhart contributed to this report.
Read the full article here