Doug Binford and Stan Swies share the "conservative" label, but the marks on their 2024 Republican primary ballots could look a little different.
Binford, a Nashville resident who supports Florida Gov. Ron DeSantis for the 2024 nomination told 'Fox & Friends Weekend' that, although he likes former President Donald Trump and voted for him in the past, he isn't sure he's the man for the job going forward.
"I think DeSantis is a great candidate," he told Fox News' Pete Hegseth on Sunday. "If he gets in, I think he'd do quite well… I'm a strong conservative. I supported Trump, and I still like Trump. I don't know if he's necessarily the candidate for the next election."
FLORIDA REPUBLICANS BACKING TRUMP DENOUNCE LEAK OF DESANTIS DEBATE TAPES: 'DISLOYAL HACKERY'
He added that Trump's policies were attractive to him, and he believes DeSantis, if president, would adopt a similar approach.
Swies, a Florida resident, contrastingly throws his support behind the former president. 
Despite expressing support for Trump, Swies told 'Fox & Friends Weekend' that DeSantis is still a candidate he could get behind.
"I ran his [Trump's] campaign in The Villages [Florida] twice. I also like DeSantis because I ran his campaign," he said.
FORMER TRUMP ADVISER ENDORSES RON DESANTIS FOR PRESIDENT
Swies has different ambitions for the two top-tier candidates, however, and wishes they would join forces instead of standing at odds.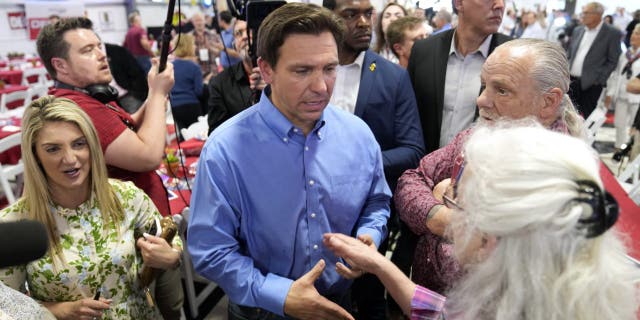 "We're hoping that, before it all comes out, Trump will run as president, DeSantis will run as vice president," he explained.
Whether there's potential for the two men to be running mates, Trump's track record from his term in office has Swies convinced he's the best man for the job. 
"I mean, he controlled the border." Everything that's going on right now – the problems that we have going on for our kids and grandkids, our relationship with China and North Korea – everything has gone the other way [since Biden took office]," Swies said.
"I think he's the best president that we've had in a long time," he added.
TRUMP, HALEY, DESANTIS? HERE'S EVERYONE RUNNING, RUMORED, OR SITTING OUT THE GOP 2024 PRESIDENTIAL PRIMARY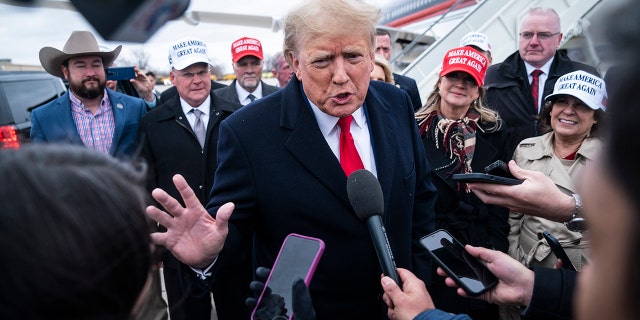 Binford told co-host Will Cain that he believes DeSantis would be equally as strong as Trump and doubled down on Swies' hope that the two rising Republican forces could eventually join sides instead of standing at opposite ends. 
IOWA SHOWDOWN: TRUMP AND DESANTIS HOLD COMPETING 2024 EVENTS IN FIRST CAUCUS STATE
The top two candidates in the early 2024 Republican presidential nomination polls converged, Saturday, in Iowa, the state whose caucuses lead off the GOP road to the White House calendar. 
While Trump – who's formally announced his presidential candidacy and is favored among Republicans – held a rally in Iowa this weekend, DeSantis was also headlining events in both the western and eastern parts of the Hawkeye State to fundraise for fellow Republicans
While the popular two-term conservative governor remains on the 2024 sidelines, he's expected to launch a presidential campaign in the coming weeks, and polling indicates he's Trump's top rival — firmly in second place and well ahead of the rest of the pack of actual and likely GOP White House contenders.
Though the road to 2024 is long and paved with many debates, campaign events, attack ads and more, polls indicate the trajectory for DeSantis appears increasingly dismal, with the latest Fox News poll from April showing Trump hovering around 50% support while DeSantis trails behind at nearly 20%, a decline from previous numbers.
The numbers indicate a ten-point uptick for Trump and a 7-point slippage for DeSantis since February.
Fox News' Paul Steinhauser contributed to this report.
Read the full article here