New York Rep. Elise Stefanik, chair of the Republican Conference, is demanding accountability and transparency, saying reports of Biden family members receiving payments from Chinese business dealings "reek of corruption." 
President Biden has denied that family members received more than $1 million in payments linked to a Hunter Biden's associate and their business dealings in China. Stefanik, however, said House Republicans are going to follow the "facts."
"It's not political. This is about getting to the truth," Stefanik said on "America Reports" Monday. "This is about making sure that you don't have a family of the president of the United States who is profiting off of dealing with adversaries like the Chinese Communist Party that is compromised."
HUNTER BIDEN: SUBPOENAED BANK OF AMERICA RECORDS OPENED 'NEW AVENUES' OF INVESTIGATION, HOUSE OVERSIGHT SAYS
Republican lawmakers revealed that Hunter Biden, Jim Biden and Hallie Biden – the widow of Beau Biden – all received payments from Hunter's associate. But a fourth member of the Biden family who also received payment remains unknown. 
"We need those answers," Stefanik told host Sandra Smith. "We're going to leave no stone unturned to make sure that we bring this accountability and really ensure that the American people know the truth of the height of corruption of Biden and his family members."
Ohio Rep. Jim Jordan said on "The Faulkner Focus" Monday that learning the identity of the fourth Biden family member is "fundamental." However, there are many other key questions that need answers.
"Then second, what was the service they were providing that warranted receiving all this money and these millions of dollars? What work did they do? What services?" Jordan asked. Those two issues, he explained, are the basis of the House Oversight's investigation. 
GOP REP HAS BAD NEWS FOR WHITE HOUSE FOLLOWING EVIDENCE OF HUNTER-CHINA CORRESPONDENCE: 'JUST THE BEGINNING'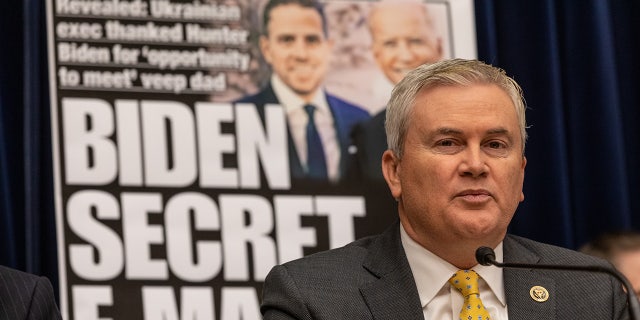 Jordan noted to host Harris Faulkner that Biden's Treasury Department provided the committee with the suspicious activity reports related to the Biden family.
"According to the United States Treasury Department, to Janet Yellen's agency, they're the ones who said this all looks suspicious," he said of the reports.
"I think the American people are entitled to know what was going on here."
Read the full article here