A New Jersey man accused of making an online death threat against Volusia County Sheriff Mike Chitwood was flown to Florida Monday, and the target of the threat was there to greet him.
"I'm Volusia County Sheriff Mike Chitwood. Anything you, uh – I hope you enjoy you stay. Welcome to Florida," Sheriff Chitwood said as 38-year-old Richard Golden made his way down the escalator. The meeting was caught on camera by FOX 35 Orlando. 
Golden then made his way outside the Sanford Orlando International Airport where he was placed inside a law enforcement vehicle. 
"He walked right by. I mean how much [more] gutless can you be?" Chitwood said outside the airport. Golden also did not respond to reporters' questions.
GOV. DESANTIS SIGNS UNIVERSAL SCHOOL CHOICE INTO LAW: 'MONUMENTAL DAY IN FLORIDA HISTORY'
Golden was arrested at his mother's home earlier this month after he allegedly wrote an online threat about Chitwood on 4chan, an online messaging board, following a press conference where Chitwood condemned antisemitic messaging and flyers that were appearing in Volusia County. 
"Just shoot Chitwood in the head. He stops being a problem. They have to find a new guy to be the new problem," Golden allegedly admitted to posting.  
SUPREME COURT TO DECIDE WHETHER DISABLED ACTIVIST CAN FILE LAWSUITS AGAINST HOTELS SHE DOESN'T INTEND TO VISIT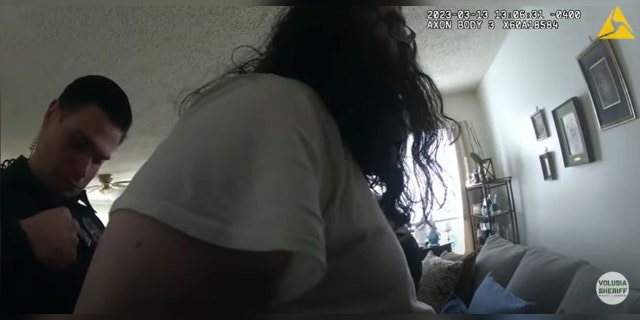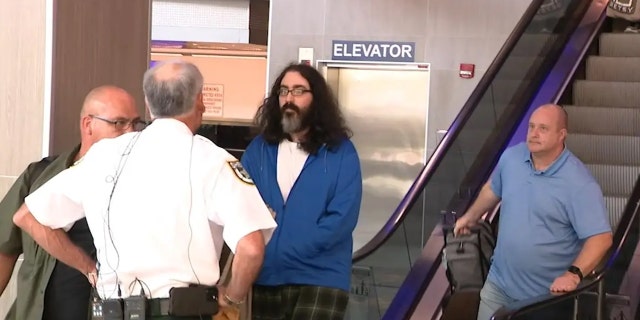 Sheriff Chitwood told FOX 35 he wanted to be at the airport when Golden landed to show that he and his team will not back down against hate and violence. Other alleged perpetrators are said to be receiving the same welcome soon.
"[Extremists] want to threaten to put bullets and people's heads and don't think they're going to be held accountable," he said. "We're going to hold you accountable."
Golden is charged with written threats to kill or do bodily injury, according to online booking records. His bond is set at $100,000.
Read the full article here