Two Florida deputies and an off-duty deputy helped to rescue a newborn dolphin that was found alone and struggling in the ocean off the coast of a beach town earlier this month.
The off-duty deputy was fishing from a boat in the gulf near Hudson, Florida, on May 10 when he spotted the dolphin calf swimming in circles and struggling to get above water to breathe, the Pasco Sheriff's Office said Tuesday.
The calf was believed to have been just hours or days old, according to officials.
The off-duty deputy called the sheriff's Maritime Operations Unit, which sent two deputies out by boat to meet him in the water.
FLORIDA DRIVER STOPS FOR TURTLE CROSSING BUSY HIGHWAY, CAUSES MULTI-VEHICLE CRASH: VIDEO
Officer-worn bodycam footage shows the deputies retrieving the baby dolphin and taking the sea mammal by boat to Clearwater. The deputies are seen wrapping the calf in a blanket and pouring water over its body as they make the 30-minute trip.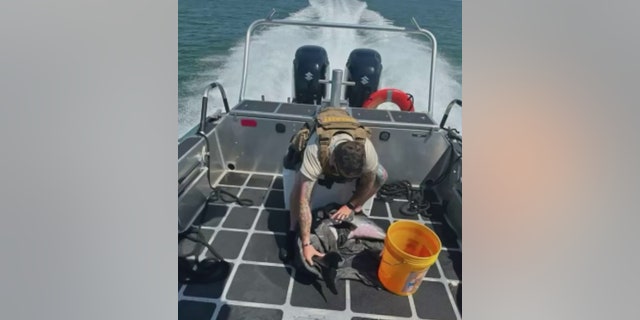 COLORADO HOMEOWNER CAPTURES VIDEO OF BEAR OPENING FRONT DOOR
At the dock, the deputies met with staff of the Clearwater Marine Aquarium, which took the calf into its care before transferring it to SeaWorld Rescue.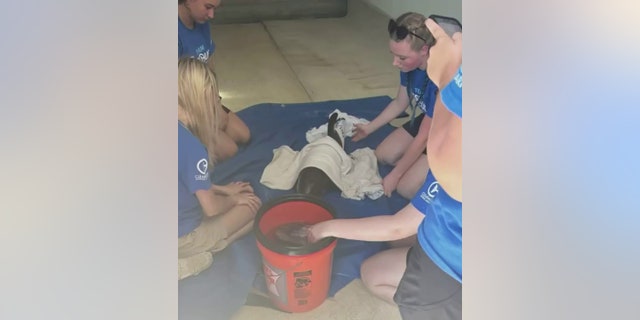 SeaWorld Rescue said the dolphin calf, a male, was still in critical condition as of Tuesday, but is showing signs of improvement and was swimming on his own, according to the sheriff's office.
CLICK TO GET THE FOX NEWS APP
Officials advised the public to call the proper authorities upon finding an animal in distress and to keep an eye on the animal from a distance to help responders.
Read the full article here