The long-anticipated report from Special Counsel John Durham revealed the FBI opened its doomed Trump-Russia investigation after former Trump campaign aide George Papadopoulos repeatedly denied any possible collusion and argued that such activity would be treasonous.
Durham's report Monday determined that the FBI opened its years-long "Crossfire Hurricane" investigation into alleged collusion between former President Trump and the Kremlin based on "raw, unanalyzed and uncorroborated intelligence," and that it "reflected a noticeable departure from how it approached prior matters involving possible attempted foreign election interference plans aimed at the Clinton campaign."
On page 252 of the report, Durham claims the FBI recorded meetings between Papadopoulos, confidential human sources (CHS) and undercover employees (UCE) and that Papadopoulos repeatedly denied any wrongdoing by the 2016 campaign.
"During the course of these meetings, Papadopoulos denied Russian assistance to the Trump campaign, notwithstanding repeated attempts by CHS-1 to link the WikiLeaks disclosures of DNC emails to the campaign — an assertion set forth in the Page FISA applications," the report stated. 
DURHAM PROBE: FBI OFFERED CHRISTOPHER STEELE $1 MILLION TO CORROBORATE TRUMP ALLEGATIONS IN DOSSIER
The report was referring to the Foreign Intelligence Surveillance Act (FISA) warrants to surveil former Trump campaign adviser Carter Page, which heavily relied on the uncorroborated and since-debunked Steele dossier.
The dossier, which was commissioned by a research firm hired by Hillary Clinton campaign lawyer Marc Elias, alleged that Page, working with the Russians, coordinated the timing of the release of hacked Democratic National Committee (DNC) emails by WikiLeaks for the purpose of damaging Clinton's campaign.
"In fact, when asked directly by CHS-I if the campaign had advance knowledge about the WikiLeaks disclosures, Papadopoulos replied 'no,'" the report said. "Papadopoulos stated that the campaign 'would [not] advocate for this type of activity because, at the end of the day, it's, ah, illegal … and compromises the U.S. national security' Papadopoulos also stated that this type of activity is 'espionage … treason.'"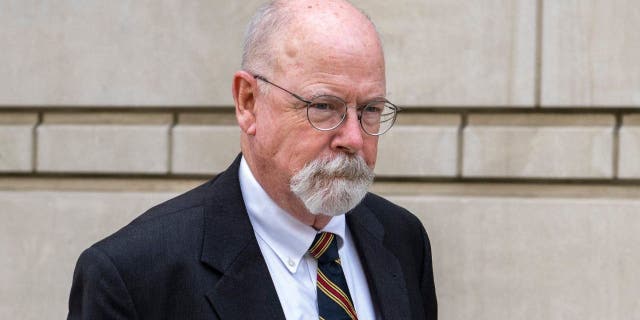 Papadopoulos similarly made repeated denials about the campaign's involvement with the WikiLeaks disclosures to a second source, but those denials were not included in the FISA applications, Durham's report said. 
"These highly probative statements, some of which were made before the initial Page FISA application, were not included in that application or any subsequent renewals," it said. "Perhaps more importantly, these statements did not cause anyone in the FBI to question the initial predication for Crossfire Hurricane, namely Papadopoulos's alleged statements to the Australian diplomats regarding Russia's offer of assistance to the Trump campaign."
TRUMP SAYS THERE MUST BE A 'HEAVY PRICE TO PAY' FOR COMEY, DEMOCRATS AFTER RELEASE OF DURHAM REPORT
According to the report, FBI investigators dismissed Papadopoulos' denials, without citing any evidence, as "weird" and "rehearsed."
"Indeed, when interviewed by the Office, one Crossfire Hurricane investigator repeated that assessment noting that Papadopoulos's statements were 'curious,' rehearsed, and therefore not authentic," the report said. "Likewise, when interviewed by the Office, another investigator recalled briefing FBI executives about the Papadopoulos statements, including [former FBI Deputy Director Andrew] McCabe, and noted that the statements were deemed to be scripted to give a false impression."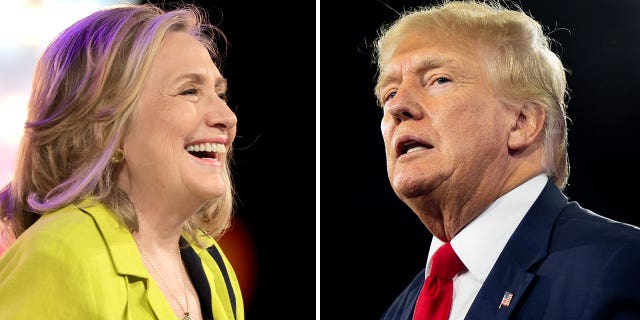 Durham argued in his report that while "the exclusion of the Papadopoulos statements in the Page FISA application may have been sufficient to meet a negligence standard," it was "insufficient to bring criminal charges against any FBI or Department personnel."
READ DURHAM'S REPORT ON THE ORIGINS OF THE FBI'S RUSSIAN COLLUSION PROBE
During an appearance on "Fox News Tonight," Papadopoulos hailed Durham's report as a "profound indictment" on the U.S. intelligence community, telling host Will Cain that "heads have to roll" for putting the country through years of unfounded Trump-Russia collusion allegations.
"I feel ecstatic," he said. "My wife and I have been celebrating all day today because this really didn't just tarnish my image. It also tarnished my wife's image who really stuck with me through this entire saga from beginning until end, So I'm a very lucky guy.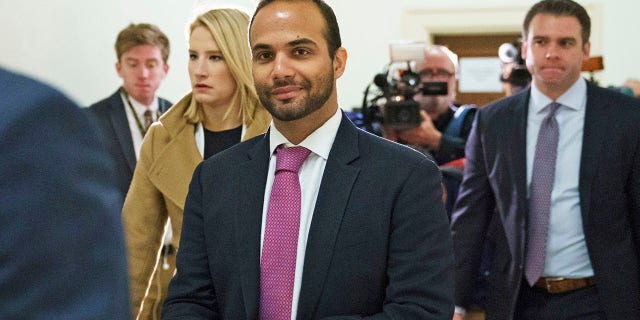 In March 2016, as an aide to the Trump campaign focusing on foreign policy, Papadopoulos met with Maltese professor Joseph Mifsud in London, who told him that the Russians had dirt in the form of emails that could damage Hillary Clinton's presidential campaign, The New York Times reported in 2017.
Papadopoulos then reportedly told Australian diplomat Alexander Downer of the new information, and Downer reported Papadopoulos' comments to the FBI. Papadopoulos was later charged in former Special Counsel Robert Mueller's investigation with lying to investigators about the timing of his meeting with Mifsud and about his knowledge of Mifsud's connections to Russia. 
Papadopoulos pleaded guilty and wound up serving 12 days behind bars, followed by 12 months of probation. He released a book the next year, "Deep State Target: How I Got Caught in the Crosshairs of the Plot to Bring Down President Trump," and he was later pardoned by Trump.
Fox News' Brooke Singman and Yael Halon contributed to this report. 
Read the full article here