One of New York City's most prominent crime fighters called out Democrats for working against efforts to return the Big Apple to its former place as one of the nation's safest big cities.
Former NYPD Commissioner Bill Bratton, who served under Mayors Rudolph Giuliani and Bill de Blasio, told "The Story" he usually agrees with incumbent Mayor Eric Adams, but "strongly disagrees" with the Democrat's recent claim it is Republicans who refuse to properly fund and support police.
Adams had defended President Biden's crime-fighting record, telling MSNBC's Jen Psaki in a subway-riding exchange the GOP falsely characterizes Democrats as "soft on crime" and instead claimed the Republicans refuse to "put money in [Biden's] crime bills."
Bratton said Adams' real opponent in the battle against surging Big Apple crime lies in the Albany legislature and New York City council, the latter of which is 45-6 Democrat-supermajority.
BRATTON: I WOULDN'T TAKE TOP COP JOB IN ANY MAJOR CITY
"He has been swimming upstream against a Niagara Falls of criminal justice reform that has made New York once again, unfortunately, not the safest large city in America – but ranks up there among some of the most dangerous," Bratton said.
"It doesn't have to be."
Bratton's "quick fix" is to add more street cops to the beat, he said, hearkening back to his time before Giuliani tapped him to lead New York's Finest when he was chief of the city's Transit Police.
"The [NYPD] is short between three and 4000 officers," he said, citing lack support and sub-par salaries.
"There's also the situation of the legislature, which put through criminal justice reform, which effectively has made it incredibly difficult to police the city or for the courts to deal effectively with the criminals who are arrested by the police."
BRATTON: SOROS-ALIGNED PROSECUTORS DESTROYING CRIMINAL JUSTICE SYSTEM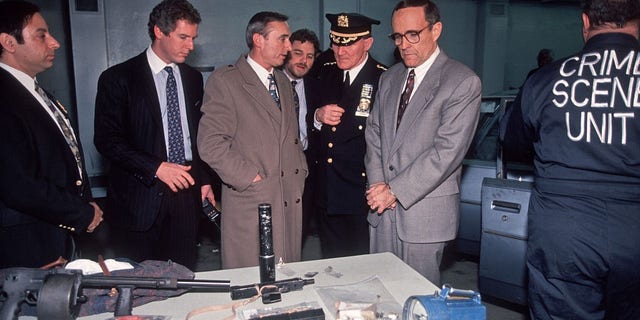 Like Bratton's time leading the transit cops beginning in 1990, Adams has rightly been focusing on quality-of-life crimes like grafitti, drug dealing and fare evasion.
He pointed out few if any MTA subway cars still show signs of the rampant graffiti that graced them throughout the 1980s, a sign that such policing strategies work.
Bratton said city leadership took notice of how well the subways' safety rebounded in the early 90s that Giuliani picked him to lead the aboveground blue.
CLICK TO GET THE FOX NEWS APP
"For 25 years, the streets of New York were continually safer. You didn't see the graffiti on those subway cars like the pictures that you're showing right now," he said, as Bratton's tenure gave way to similar leadership under Commissioners Howard Safir, Bernie Kerik and Ray Kelly.
"But, so many of those quality of life offenses have been enabled by the legislature in Albany and the city council, with reluctance to enforce the rule of law," Bratton added.
Read the full article here